Car insurers offer everything from phone apps to pet death benefits to rollover miles as perks to earn your classic car insurance business, with many of their offers pure genius. However, try not to let these enticements blindside you into signing along the dotted line before doing your homework. Learn how to insure your one-of-a-kind, classic car worry-free with these six tips.
Tip 1: When cruising for classic car insurance, plan your first stop at an insurance provider who specializes in collector cars. Unlike other insurance providers, collector car insurers understand classic car values appreciate and insure them that way. They also use A-rated carriers and offer a few hidden benefits you may not have considered. For example, they won't cringe when you ask to repair your pride and joy with original, hard-to-find parts at the shop of your choice, not theirs. Many insurers even offer on-staff specialists to help you locate original parts when repairing your classic beauty. In addition, their coverage plans are very affordable because, more than likely, you'll be driving your coveted classic limited miles every year and keeping it under lock and key when you're not driving it.
Tip 2: When insuring your classic car, accept nothing less than an "Agreed Value" policy. With an agreed value policy, your classic car's value is established up front between you, the insurer, and an appraiser. Why is this important to you? Should your restored classic be totaled with an agreed value of $36,000 stated in your policy, you'll receive a check for $36,000; no ifs, ands, or buts about it. You may even receive an additional percentage if you opt for a policy with built-in quarterly appreciation adjustments. It just doesn't get any better than that!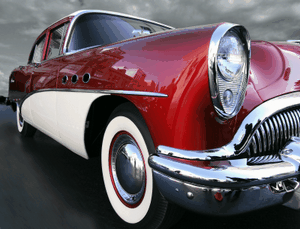 Tip 3: When insuring your classic car, steer clear of "Stated Value" and "Actual Cash Value (ACV)" policies. These policy types leave the field wide open when it comes to valuing your timeless beauty. Plus, there is no assurance that appreciation will be taken into consideration when you do make a claim. That's because stated value and ACV policies are chock-full of ifs, ands, and buts with policies often reading something like, "insurer agrees to cover the cost of repairs if repairs are less than the stated value, or the stated value, or actual cash value (ACV), whichever is less." It's clear from the policy wording that the value of your classic car is never guaranteed, and that's a risk most classic car owners aren't willing to take.
Tip 4: Think twice about insuring your priceless classic with insurers who offer no expertise in the collector car corral. No matter how well-intentioned their efforts may be, these insurers usually cannot offer the same caliber of services collector car insurers offer. For example, they may not allow you to choose your own repair shop or make repairs to your classic car yourself. Even if they do offer those options, their entire claims process can be held up by inexperienced agents questioning every request to repair your classic beauty with unique and original parts. On top of that, you may not be able to restore your classic to its original condition should it be mistakenly undervalued by a claims adjuster who lacks expertise in collector car appraisals.
Tip 5: Learn about classic car policy add-ons and choose the options that best fit your needs. Because every car enthusiast dreams of enjoying their classic car in their own, unique way, there are a bevy of coverage options available for you to choose from. If you plan to make a profit from your restored beauty through photo shoots and movies, optional business coverage is probably right for you. While you're restoring your classic beauty, look at policies and add-ons that cover the special tools and parts you keep on hand. If you're planning an occasional cruise with the car club every Saturday night, a tiered mileage option might best fit your needs. You can even pick up coverage for your furry pal Bentley when you bring him along for the ride.
Tip 6: Take advantage of available policy discounts. While some of the discounts for classic cars are obvious like discounts offered on a collection of classic cars, there are other discounts you may not be aware of. Ask your agent if they offer discounts for completing a defensive driving course or protecting your classic car with an anti-theft device. You may even be eligible for a discount through one of your automobile club memberships or when you put your classic beauty in storage over the winter months.
Now that you've learned how to insure your one-of-a-kind, classic car worry-free, take a look at some of the awesome perks collector car insurers offer. Get a mobile phone app that sends real-time sales data directly from auto auctions. Sign up for a mileage rollover program where unused miles accumulate from year-to-year and never expire. Plug into online valuation tools and appraiser networks. Buy back and rebuild your classic beauty if it's ever salvaged. The possibilities are endless with incredible insurance options designed to cover your incredible, classic dreams.
Discover car sale's secrets (or maybe learn how to make some extra cash) – go see The Lazy Way To Buy And Sell Cars For Profit.