Most of us inherit our Thanksgiving traditions from our family. For the most part, Thanksgiving involves getting together with family and sharing a turkey (and/or other Thanksgiving dishes we learned from our parents or other family members). This Thanksgiving why not establish some Thanksgiving traditions that are uniquely yours? Something your kids or friends can pass down from Thanksgiving to Thanksgiving for … who knows? … may a generation or two. Here are a few ideas to get you started this Thanksgiving with creating a tradition that will make Thanksgiving a special holiday in your household.
Create a Gratitude Calendar
Thanksgiving is supposed to be a holiday for giving thanks, but too often people forget that important element. Keep thankfulness front and center with your family by creating a gratitude calendar. Use a chalkboard, a dry erase board or a simple sheet of paper with a line for every day in the month of November. Each day, have a member of the family list something he or she is thankful for. Review the list on Thanksgiving and put a copy of the list away at the end of the month. When you bring it out again in five or ten years, you'll be able to recall that season of your life vividly and with joy.
Count Your Blessings
Similar to the gratitude calendar, a blessings jar literally helps you count your blessings on Thanksgiving. Leave the jar on your table all year long. At any time, a family member may write a blessing that he or she is thankful for on a scrap piece of paper and put it in the jar. During Thanksgiving dinner, pull out the blessings jar and read a few select blessings. If you have the time, you could even read them all! Save these scraps of paper to add to your scrapbook pages at the end of the year.
Create a Thanksgiving Theme Every Year
Create a theme for each Thanksgiving. Right after Halloween, announce your new theme for the coming Thanksgiving. Naturally, pilgrims and Native Americans might be a first choice, but think outside-the-box. Since Thanksgiving was formally declared a national holiday in 1941, have a 1941 themed Thanksgiving; or maybe have and an 80s or even 60s themed Thanksgiving; or theme Thanksgiving in set of colors like orange and green (everyone needs to be wearing those colors on Thanksgiving and/or have dishes prepared in theme colors); have a sports Thanksgiving; the possibilities are endless and every Thanksgiving will be a fresh experience.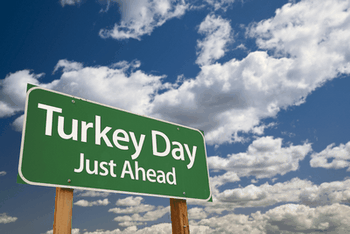 The After Turkey Dinner Ramble
This is not just an after dinner walk – it is a mission. Everyone goes for the walk. Establish a place and distance for the walk, something everyone can manage. Everyone stays together on the walk – this is not a contest. Everyone is rewarded with pumpkin pie to makes the walk.
Thanksgiving – Not Just for Football Anymore
Yes, it's a wonderful day for football. Many families of a hearty nature have their traditional Thanksgiving football game where everyone piles into the yard (or heads for the park) for game. There is also the traditional NFL football games on T.V. If that is your family and friends tradition, great. But, Thanksgiving doesn't just have to be about football games. There are lots of games that everyone can enjoy which can easily become a Thanksgiving tradition – card games, video games (guitar hero was a favorite for several years), board games or you could look up some long forgotten parlor games. Set a time and place for the games (before or after football), set up the game(s) and put down the challenge.
The Ornament Exchange
After Thanksgiving we all know Christmas is around the corner. Why not establish the Christmas Ornament Exchange. For a small family, have everyone find, or make, a Christmas ornament. After dinner, each family member can present their special ornament for this year's Christmas tree. If out-of-town family or friends attend your Thanksgiving, let them know to bring an ornament and then exchange ornaments after dinner.
Now, for a larger Thanksgiving gathering, you can get a bit more elaborate with the ornament exchange. To make this more interesting, turn the ornament exchange into a game. For this game everyone must bring or have an ornament to exchange, a set of dice and a timer. Set the timer for 10 to 15 minutes and begin having each person roll the dice in a rotation. If someone rolls a 7 or 11, then they get to choose whomever they want to exchange ornaments with them. Naturally, the idea is have the ornament you want by the time the timer goes off. Some families like to have all the ornaments wrapped and placed in a box, and, right after dinner, every takes a wrapped ornament from the box and unwraps it before the game begins (so everyone can see who got what ornament). Continued negotiations to trade ornaments after the game ends is allowed. If your interested in unique, cool Christmas ornaments, check out the Christmas Ornament Shop
Take Advantage of Spontaneous Events to Create a Thanksgiving Tradition
Many unique and interesting Thanksgiving traditions are created by spontaneous events that occur during Thanksgiving. When something interesting or fun occurs during Thanksgiving, take advantage of it. Maybe a movie is a hit after dinner, ask everyone if they'd like to establish a Thanksgiving tradition of an after dinner movie with popcorn and (of course) turkey sandwiches. This might blend well with the 'themed Thanksgiving' where the movie must match the theme for that year. Many a stupid game turns out to be a real hit. Make sure that game is on hand for the next Thanksgiving. You'd be surprised at what Thanksgiving traditions can be created if you just make a point of creating one.
Whatever works out for your Thanksgiving, remember that it is all about being grateful – grateful for the food, family, the friends and all that we have – Give Thanks.