Mobile quarterbacks have always been a popular topic of conversation among NFL analysts and fans. The potential duel threat of a quarterback who could as easily run the ball for ten yards as throw it for ten has always been tantalizing. In college mobile quarterbacks have led many teams to championships. For a variety of reasons, however, most of these quarterbacks failed to work out once they reached the NFL level.
Defenders are faster in the NFL and able to close off many of the running lanes that stay open for quarterbacks at the college level. NFL quarterbacks who rely on their feet to make plays get injured more often from taking too many hits and spend too much time on the bench. NFL quarterbacks are expected to be excellent passers and if a quarterback compensated for his less than accurate passing in college with an ability to run its unlikely that he'll succeed as a pro.
That's always been the story at least. In recent years, however, many teams have begun to reconsider how a mobile quarterback might work into their plans. The reason for this is that there are simply more mobile quarterbacks at the college level than there have ever been before. Most schools in high school and college have started to use some version of the spread offense for running most of their plays. This involves having a quarterback constantly in the shotgun position with four or even five receivers lined up to spread the field. Having a mobile quarterback in the spread offense makes a team much more dangerous as defenses are unable to focus on both the receivers and the quarterback at once.
This means that the most promising quarterback prospects coming out of college from now on are likely to be mobile quarterbacks. Perhaps the most dominant college quarterback of the last decade was Tim Tebow, who as quarterback in Urban Meyer's system at the University of Florida established himself as both a passer and a power runner. Many would say that Tebow actually had one of the greatest college careers of all time after he won a Heisman and two national championships with the Florida Gators.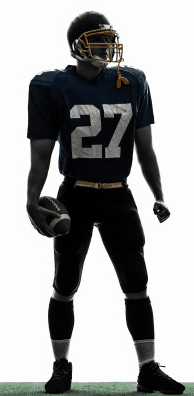 Despite being drafted in the first round in 2010, Tebow was considered a doubtful prospect as an NFL quarterback and many urged him to consider playing another position such as tight-end. After an unprecedented lobbying campaign by fans of the Denver Broncos, in which advertising was even bought on billboards and over the radio, the team decided to start Tebow at quarterback midway into their 2011 season.
Surprising perhaps even the coaches of the team, the Broncos were actually very successful once Tebow was in place at quarterback with the team making the playoffs and then shocking the Steelers with a first round victory. Despite the strong finish to the season, however, the Broncos decided that Tebow's poor passing accuracy still limited them too much as an offense and traded him to the New York Jets at the end of the season.
Based mostly on his astounding performances in college, Tebow remains a national celebrity and is likely to figure strongly into the immediate offensive plans of the Jets. Regardless of how Tebow's NFL career ultimately works out, his example is further proof of the new importance of mobile quarterbacks as NFL prospects. The possibility of getting similar performances at the NFL level is just too exciting for NFL coaches or fans to ignore.
Mobile quarterbacks have actually had some success in the NFL. Randall Cunningham electrified stadiums playing as quarterback for the Eagles in the 1980s and early 1990s and then finished his career leading one of the most dominant offenses of all time with the Minnesota Vikings. Cunningham failed to win a Super Bowl, however, in part because he spent a large part of his career on the bench with injuries.
Both Steve Young and John Elway won Super Bowls thanks partly to coach Mike Shanahan's unique way of using a mobile quarterback. First by working with Young as coordinator for the San Francisco 49ers, Shanahan realized that he could use a mobile quarterback to facilitate deep passing. Having Steve Young go into rollouts in the pocket or on bootleg plays, Shanahan bought his receivers extra time to get down field for big plays. After winning a Super Bowl with the 49ers this way, Shanahan then brought the same system to the Denver Broncos and won two more Super Bowls using John Elway in a similar way.
Something like the Shanahan system might be the best way to use the new type of mobile quarterback that's now heading for the NFL. As more passers at the college and high school level become mobile it also becomes more likely that they'll possess the arm strength and accuracy to play in the NFL. In the 2011 draft the Carolina Panthers selected Auburn quarterback Cam Newton with their first overall pick. Many analysts thought that Newton had gone higher than he should have and doubted his ability to adjust to an NFL system.
Newton surprised many by then having one of the more outstanding rookie seasons in recent memory. In his first game for the Panthers Newton threw for 400 yards, breaking a record that had been previously set by Peyton Manning. Newton's mobility helped him greatly as defenses would line up extra players at the line to try to cope him only to then have him throw it over their heads for passes of 30 yards or more. Newton has proved to be as good an NFL passer as any of the less mobile quarterbacks in the league while adding something extra to extend plays with his feet.
Perhaps with Newton's recent success in mind, the Washington Redskins and their new coach Mike Shanahan decided to trade 4 future picks to the Saint Louis Rams in order to draft Robert Griffin with the number 2 pick in the 2012 draft. Mike Shanahan has of course had great success with mobile quarterbacks in the past and is perhaps one of the NFL coaches best equipped to take advantage of this new kind of weapon with his system.
Robert Griffin is something of a rarity in his athletic gifts even among mobile quarterbacks. Griffin spent time in college competing as a sprinter and will be perhaps the fastest quarterback to ever play in the NFL. He combines this raw speed with an excellent deep pass and great passing accuracy. When Griffin rolls out in the bootleg plays that are typical of the Shanahan offense defenses will have to try to cope with the fact that he can both throw it deep for more than 30 yards or run it himself for 30 yards. The time he'll buy for his receivers through his speed on rollouts will also make the Redskins' passing game much more effective.
Cam Newton became successful in Carolina in part because the team already had a strong running game to help him perform well. Instead of his risking injury by leaving the pocket too often, or becoming too reliant on his feet, Newton was able to use his speed selectively when it had the best chance of succeeding. Mike Shanahan made John Elway and Steve Young successful in part by providing them with excellent running games as well. Shanahan is expected to take the same approach with Griffin in Washington.
The athletic factors that have prevented the spread offense from becoming widespread in the NFL are likely to continue. Defenders are simply too fast once they reach the NFL level and too adept at reading offenses for the spread to work. With the spread's dominance at other levels of the game, however, NFL offenses will have many more players on their roster who learned the game playing that way.
Just as players have had to adapt to the NFL, NFL coaches also have to adapt to NFL talent. The mobile quarterbacks who are being made prominent because of the spread system are too potentially valuable for NFL coordinators to ignore. To take advantage of a mobile quarterback an NFL team will need something different than the spread but also different than most of the systems currently being run in the league.
Because of rule changes that were meant to protect the quarterback it became much easier for NFL teams to become pass first offenses during the early 2000s. Quarterbacks such as Tom Brady and Peyton Manning dominated the game by staying in the pocket and reading defenses to make very quick accurate passes. As more mobile quarterbacks enter the league, however, this model might be about to change.
The Shanahan offense has had the most success with mobile quarterbacks thus far. Using a quarterback's legs less to gain yards on the ground and more to buy time and distraction for deep passing, this system requires a running game. Though a mobile quarterback can extend a play he's helped in this much more by also having a running game. When defenders are forced to focus on stopping a team's running back they can't all rush the passer and this creates the time for receivers to get open down the field.
If you enjoy sports betting, take a look at Best Sport's Picks