The relationship between a business and a web designer tends to be a difficult one. It is rare that people who run a business understand what is involved in web design and operating on the Internet. Often web designers see business owners as either: 1) disconnected and unrealistic about Internet work. Or 2), too involved with the meaningless details of a web site and too worried about costs too reap the full rewards of Internet marketing. When the relationship between the web designer and a business becomes a rocky one, many important things get over looked (or do not get done at all).
What I'd like to do here is help web designers better understand the needs of a business who wants and Internet presence. I also want to help business owners understand the role of a web designer and get the most out of the investment of owning a domain name and being on the web.
Many Traditional Business Owners Do Not Seem to Enjoy Computer Work … That's Why They Hire Web Designers
Research recently released by British web host Fast Hosts offers interesting insight into how disconnected businesses are from their own web presences. According to this report, one out of two businesses with a web presence do not have the expertise needed to perform even minor updates on their websites (the exact number is 56%).
An even larger proportion – two out of three businesses – could not update their website even if they chose to. Their web design firms do not give them their passwords. They want them to be entirely dependent on them for their website needs.
Retaining control over the crown jewels of the business
Often, companies completely depend on their website to stay in business. They cannot be expected to do their web designing and developing in-house, of course. They should pay more attention to their choice of web designer, though. It makes no sense to completely hand such an important asset over to an outside company. This could turn out like one of those situations where music superstars find themselves completely controlled by their managers.
Sometimes, businesses can get plain careless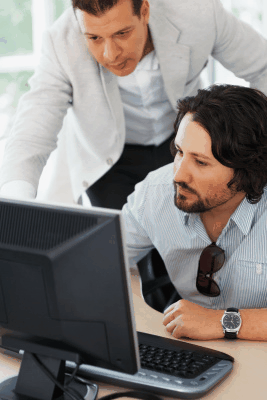 Some companies report that they do not even have control over their domain names – their web designers keep control over those domain name registrations, registering them themselves. Small businesses, apparently, are often unaware of how important it is for them to keep tight control over their domains.
This is a good test of a good web design firm – to ask how much control you get. The best web design firms give their clients complete control as a matter of policy.
There are lots of other ways in which things can sour with a web designer
Making sure that you stay in control is only one part of getting good results with a web design firm. There are a number of things you need to keep in mind picking a great web designer and establishing a working relationship there.
1. Hiring a web designer isn't simply about getting someone who has the technical chops needed. Web design is an art, too. You and the person you end up working with need to see eye to eye in matters of taste. The designer also needs to be someone who has previously designed websites for your kind of business. You need to pay attention to the portfolio the web designer presents to you.
2. Business owners often know nothing about how the Internet works. It hardly make sense trying to hire a web designer when you don't know anything about Internet technology yourself. Good web designers often start by educating their clients in the basics a little. This is a sign of a caring designer. An even better way to go about getting the best results would be to grab a book to read, ahead of looking for a designer.
3. Great web designers don't simply read the brief and create the website ordered by themselves. They know that to get a website that satisfies a client, one needs to involve them in the process from start to finish. If you come by a web designer who doesn't ask for detailed descriptions of what you wish to see in your website and gives you a questionnaire for to better understand your needs, you're probably with someone who isn't a professional.
4. As musical bands often discover, success as a band needs more than great artistry in the members and a shared vision. When people work closely together for a common end, they need matching personalities, as well. No business should ever commit itself to a web designer until it is apparent that there is a good personality good match to be seen.
Once you follow these tips and find a web designer, signing a contract is the next obvious step. Before you sign, though, it is important to know what exactly you'll pay. The contract should come with a complete schedule of charges and a payment plan. You need a schedule of charges, for instance to know how much exactly requests for changes cost.
When you actually see the website for the first time
Most professional web designers will offer their client a mockup of the website they've made before putting in the finishing touches ahead of release. It's important at this stage to honestly tell the web designer what exactly you think.
If the website you are shown is a nothing like you imagined, it's time to have an honest conversation. On the other hand, you don't want to do a Steve Jobs impression and request minor changes to do with moving an icon 2 pixels to the left "so that it looks perfect". You need to leave those kinds of decisions to the web designer. You do need to trust the person you hire to practice their craft well.