Although most people have not heard of Christine de Pizan, she remains a very important historical figure, as Europe's first professional writer. When a sudden tragedy took the lives of her father and husband, she became a widow and single mother, and out of necessity, self-supporting. Christine was soon drawn to writing. This marked the start of Christine de Pizan's career as a professional writer, providing her with not only more than enough money to support her children and her own life, but it also resulted in major popularity and fame, and she was even adored by royalty. Christine de Pizan plays a truly significant and fascinating role in history, because she took charge of her life, supporting herself and her family on her own; she wrote compelling books, poems, and songs, some of which remain famous to this day; and she forever influenced European women and literature.
In the year 1364, Christine de Pizan was born in Venice, Italy. Her father was a famous physician and astrologer named Tomasso de Pizzano. When Christine was five, Tomasso was invited to the court of King Charles V of France. Her father gratefully accepted the offer and moved his family to France, where Christine was to spend the rest of her life. At the court, Christine received an excellent education and learned to speak three languages: French, Italian, and Latin. She also had access to the court's library, one of the largest in France.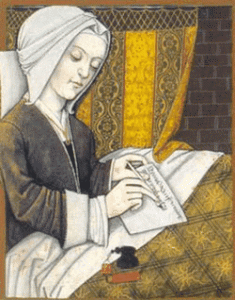 Christine de Pizan married Etienne du Castel, a court secretary, in 1380. Unfortunately, this was the same year as the death of King Charles V. The new king reduced Tomasso's favored status at the court, as well as the majority of his income. Etienne's salary was also cut down at the same time, leaving the family in a difficult financial condition. Shortly after, Christine's father passed away from prolonged illness, and in 1390, her husband, too, suddenly died. At the age of twenty-five, she had become a widow, with three small children, a niece, and her mother, to care for and support. The small amount of money left by her husband and father wasn't nearly enough to pay for her newly inherited debts, let-alone the expenses to provide needed food, water, and clothes for her family. Although, at that time, the idea of earning a living as a writer was nonexistent, Christine de Pizan was about to stumble upon a new profession.
She began earning a little money as a copyist and illustrator in a workshop that prepared manuscripts. Drawing from her exposure to literature and culture from the court, she wrote fine poems when she had spare time, many of which emphasized the loneliness she felt since the death of Etienne. Her early literary successes arose from contact with scholars and nobles at the court of France, who were most impressed by her work. This led to her subsequently being commissioned by nobles to write poems, stories, short stories, books, songs, ballads, and biographies. In fact, Christine de Pizan was the official biographer for King Charles V. She was also one of the first Europeans to write autobiographies, one of the well-known pieces being L'Avision de Christine (1405). She also wrote short stories, ballades, and songs. The topics she wrote about had a wide range, from love to military techniques, yet the most famous was a book of guidance and advice for women called Le Livre de la cité des dames, 1405 (The Book of the City of Ladies). This was the first of her writings to contribute to change in perception of women in society.
Through her writings, Christine de Pizan, challenged the portrayal of women in literature and male-dominated medieval society. She influenced European society, not only as the first professional writer, but also as perhaps the first feminist. Women in those times were not respected and were depicted as vulgar and untrustworthy in existing literature. She strove to create female characters in her writings that were virtuous and celebrated women's accomplishments. In her writings, she advised women to become more assertive and persuasive in their actions and speech, in order to rise in society. Not only did Christine de Pizan change the outlook of women, but she also began the idea of writing being a career and profession. At her time, Christine de Pizan changed only Europe, however, her influence has spread across the globe.
Christine de Pizan is indeed a unique woman in history. Due to the sudden death of both her husband and father, she was forced to sustain herself and her family financially with her writings, leading to the discovery of her literary talent among the nobility. Through her writings, and later commissioned works, she became recognized as Europe's first professional writer, gaining financial and culture importance. Finally, she used her writings to influence and teach women and to elevate the position of women in medieval society. It is through these accomplishments that Christine de Pizan is held in history not only as the first professional writer of Europe, but also as one of the original feminists.