"What we are dealing with is a vast half-lit area, where nothing seems believable but everything is possible." Carl Jung
Around the turn of the 20th century, Florida was an undeveloped wilderness of tropical foliage, moss-laden live oaks, and stately palms. This had already begun to change in the late 1800s when Henry Flagler moved to St Augustine and started what later became the Florida East Coast Railway, opening up a passage from the rest of the US to Key West. Until that time, Old Kings Highway – built by the British prior to the American Revolution – was the main entrance into the state.
It was around this time that George Colby, a young medium from New York, received a message during a séance telling him to establish a Spiritualist community in the South. This came to pass in 1875 when Colby's spirit guide, Seneca, led him through Florida's desolate woods to a site surrounded by hills, a rarity in the state's swampy flatlands.
There, in Central Florida, he settled on a homestead and devoted 35 acres to the new Cassadaga Spiritualist Camp Meeting Association. Colby, suffering from tuberculosis, found a cure for his disease in a small spring on the property.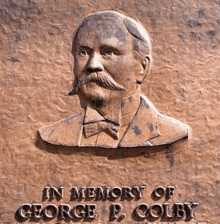 Thus began the quaint community of Cassadaga, the oldest Spiritualist community in the Southeastern United States. There, largely unchanged by time, weathered buildings – 55 residences; the Cassadaga Hotel; and the Colby Temple – stand as a testament to a bygone era. Around 25 mediums still live and work in the colony, and the calendar of events ranges from séances and readings to healings and orb photography.
The primary focus of Spiritualism is a personal experience with God and an appreciation for master teachers and prophets, such as Jesus and Buddha. However, what makes Spiritualists unique is their belief that the human personality lives on after death and is able to communicate with the earthly realm. Mediumship, in the Spiritualist tradition, seeks to prove that the living can interact with the astral plane.
Most religions subscribe to a belief in the afterlife, and most scriptures extol the presence of angels. Why, then, is it so hard to believe that those in another dimension continue to watch over and send messages to the living. Like any other practice, there may be frauds in Spiritualism. Unexplained occurrences, however, are difficult to disprove. To those who have experienced contact with friends and family in spirit, there is little uncertainty that these events can happen.
Perhaps the most closely related evidence is based on near-death studies by well-respected professionals like Elisabeth Kubler-Ross and Raymond Moody, opening Pandora's Box to an ancient mystery of which scientists know little. In Visions, Trips, and Crowded Rooms, David Kessler, renowned grief and death expert, writes about the ethereal experiences of the dying and affirms the existence of something beyond – or instead of – what we think of as death.
Lest those who believe in the existence of spirit beyond this life be relegated to the same ridicule as Galileo or Socrates in ancient times, it is time for 21st century researchers to take a serious look at this phenomenon.
If you would like more information, visit Psychic George Colby